About the Course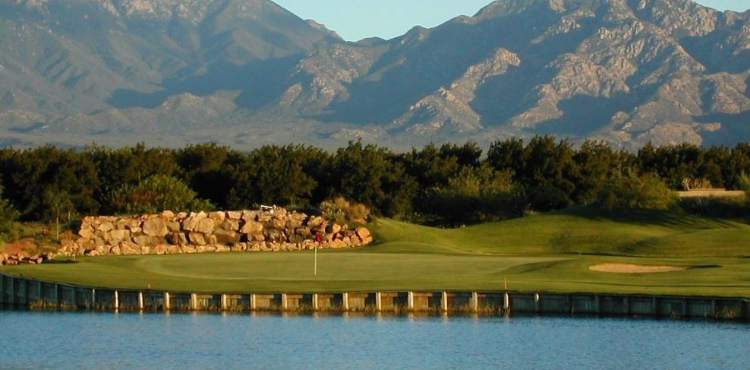 The perfect Arizona Golf course, Torres Blancas Golf Club, is nestled in the Santa Cruz River Valley at the foot of the beautiful Santa Rita Mountains. An Arizona golf vacation at Torres Blancas offers a championship course designed by Lee Trevino, Ocampo and Fernandez. Torres Blancas meanders through charming neighborhoods and breathtaking desert scenery. The par 72 course comes with 3 lakes, numerous sand traps and generous, undulating greens. Five sets of tees offer a challenge to golfers of all abilities with a maximum yardage of 7,111 from the tournament tees to 5,010 yards from the forward tees.
Visit the Pro Shop for a wide selection of attire and supplies. We take pride in presenting a full service golf shop with famous name brands such as Footjoy, Titliest, Adidas, and Ouray Headwear.
Torres Blancas is a golfer friendly facility, and most importantly is a lot of fun to play.

Holes of note are the Par 4 7th, measuring 480 yards from the tournament tees is a dogleg left. The tee shot must skirt a long fairway bunker on the inside corner of the dogleg. Go a bit too far right and be blocked out by a big mesquite tree that frames the right center of this fairway. It's a tough tee shot to say the least. The par 3 12th is our signature hole. Ranging from 97-181 yards, you better check the wind carefully, as this peninsula green can be tough to hit. Ignore the hole location and aim for the middle of the green. Keeping your ball dry should be your priority!
Hole 17 is a true risk/reward Par 5.  Only 529 yards from the tournament tees and 400 from the forward tees, this hole forces golfers to make a decision on their second shot.  A forced carry over a lake to an elevated green, which anything short will roll back into the water.

Canoa Ranch and Torres Blancas are the home courses for the Torres/Ranch Ladies Golf Association. The TRLGA play Canoa Ranch on Wednesday mornings and Torres Blancas on Monday mornings. For more information http://www.trlgagv.com

Canoa Ranch is also the home course for the Canoa Ranch Women's Golf Association. The CRWGA play Canoa Ranch on Monday and Thursday mornings. For more informationhttps://canoaranchwga.wixsite.com/crwga.
Canoa Ranch host the Canoa Ranch Men's Club on Wednesday mornings. For more information https://canoaranchgolfclub.weebly.com/

Canoa Ranch also hosts the TGIF Golf Group on Friday mornings.
Torres Blancas hosts the Torres Tuesday Men's golf group on Tuesday mornings.
For more information on any of these groups contact the Golf Shops.